04nov19:30Tone of Voice Orchestra, Ballerup19:30 Baltoppen, Baltorpvej 20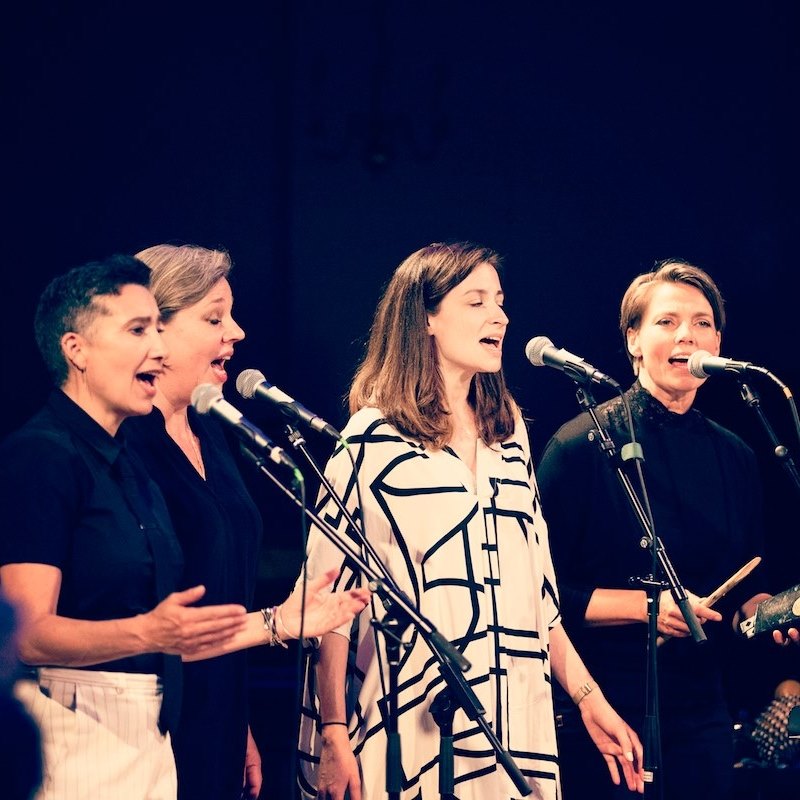 Info

Everybody Loves…..  Tone of Voice Orchestra
By Trinelise Væring

"We had never imagined how crazy this spring has turned out for us. Everyother day when we have googled, another spledid review or airplay from some cool place came up. We are very very happy everybody seems to love Tone of Voice Orchestra.

Here two month after release this is our collection of quote. We got more than 30 reviews so far, and all of them like us alot. From Denmark, USA, UK, Sweden, Norway, Germany, Austria, France, Japan.
If you wanna read the full text, go to to the Press section of this website. You will find translations into English on our Facebook & Instagram profiles."

Politiken 
 (DK) Kim Skotte: "Spillet mellem kønnene for fuld musik"
"At åbne ballet med en sækkepibefanfare kan muligvis få ubefæstede musiksjæle til at ile mod nærmeste beskyttelsesrum. Men rammes man af sådan en ikke helt uforståelig flugtimpuls, er det altså bare med at få stukket hovedet og ørerne op igen.
Ellers risikerer man at gå glip af et ganske særligt nyt dansk musikbekendtskab. (…) et stykke grænseløst feltarbejde med multikulturelt rodnet og internationalt udsyn.(…) Det ti personer store ensemble udgør en ny størrelse på den danske musikscene. En forfriskende og fordomsfri krydsbefrugtning mellem jazz, folk, world og pop."
Gaffa.dk ★★★★★ Ivan Rod: 
"dybt original, genremikset meget særegent, udtrykket stærkt overbevisende – og det uanset om udtrykket er old school eller hypermoderne, uanset om det (momentant) er genretro eller crossover. Det hele er organisk, sanseligt, stort og dybt.
Noget af det hidtil bedste og mest sammensatte og dog tilgængelige fra Lundins og Værings side.
Weekendavisen, Klaus Lyngaard:"Tone of Voice Orchestra er originalt tænkt, men ikke fortænkt, og endnu bedre så fungerer det tilmed fremragende. Lidt af et friskt pust i en dunkel tid, og så må bandet vitterlig være en fest på en scene."
Side 33.dk ★★★★★ Mads Kornum: "Mødet mellem med det melodiske og det nysgerrige, skaber en rytmisk romance, der er værd at synge om (…) musikalsk åbensindet, frit og nytænkt (…) både spændende og utrolig lytteværdig at gå med på. (…)…et album, der næsten hele vejen igennem, befinder sig på et uhørt højt og direkte berigende musikalsk stadie"
Rootsworld Magazine (USA) Martha Willette Lewis: "truly fresh"
"Lyrics are whip smart, witty and surprising. (…) creative and sonically complex (…) It is truly fresh, energizing and has lush textures and beats.(…) It's pop music for grown ups. Adult but playful. I'll take some of that"
Monolith Cocktail (USA) Dominic Valvona: "very impressive"
"the soulfully lush, quasi-classical transglobal collaboration (….) Gypsy encampments, meanders across the Balkans, lingering's of old Iberia and Rajasthan, and exotic camel-motioned creeps through jungles beckon on an album of slinking and rolling beautiful mooching, swells and gravitas. A very impressive start to a multifaceted dynamic that seems to easily sit between the contemporary and past."


Glide Magazine (USA) – "Tone of Voice Orchestra Stuns With Unconventional Instrumentation"
Dag og Tid (NO) Lars Mossefinn "Tone of Voice Orchestra lager forunderlig music (…) eit konsept som er uråd setja i bås, men som samstundes er einskapleg og originalt. (…) Tone of Voice Orchestra er eit specielt band. Musikken fanger deg frå første tone, men viser seg å vera skikkeleg slitesterk. "
Maximum Ink (USA) John Noyd: "A marvelous collaboration":
"Incorporating contemporary fairy tales into real-life delights and blossoming thoughts, ToVO's celestial messengers address modern problems and universal concerns ….."
Folk Radio (UK) "This music defies description or categorization, and I love it."
"combining Scandinavian roots with indie folk, jazz and global influences, exceptional harmonies and sophisticated lyrics; they will draw you back again and again. An exceptional debut.
The Jazz Rag (UK) skriver Ron Simson "A striking whole"
 "remarkable CD (…) just a matter of enjoying music that defies categories. (..) The pointed Lyrics are supported by a wonderfully energetic band, with solo parts being subsumed into a striking whole"
Metronome (April issue) (USA): "Something completely new"
"From left field Denmark we get these refreshing folky/jazzy artists delivering something completely new. (…) The ladies sing like sirens, but aren't afraid to make a point. You'll get goosebumps (…) innovative music"
Orkesterjournalen / Tidningen JAZZ (SE): "Tone of Voice Orchestra vet exakt our man troll binder genom effektiva hookar, stänk av groovig shamanism, texter på engelska samt en frapperande kombo av sömlöst samspel och solistisk ornamentik. (..)En mycket charmerende produktion vid sidan av definierbar genrer. Recommenderas"
Musica Terra (JAPAN): " The band magically makes the music feel both simple and sophisticated at the same time. The drone from the hurry-gurdy brings depth to the soundscape and give it a unique charm."
Couleurs Jazz (FR): "un album bien déjanté, danois, qui ne ressemble à rien. Ou qui ressemble à bien des genres, qu'on aime, qui en tire la substantifique moëlle."
Jazzspecial (DK) Brian Petro: "fortjener blødende opmærksomhed og roser"
 "Tone of Voice Orchestra er lykkedes med at blive et gennemført kunstnerisk projekt, der kun fortjener blødende opmærksomhed og roser."
Concerto (AT) – "Herausragend (…)"Spannende Klangwelten, fein nuanciert und doch mit Wucht."
Nettavisen.no (NO) – Tor Hammerø writes: "Totalt original musikk (…) noe helt spesielt "
York Calling (UK) – "Tone of Voice Orchestra have a richness of sound that really sets them apart."
Kultur und Gesellschaft (AT): Das faszinierende Tone of Voice Orchestra klingt schon beim Debüt einzigartig und unverwechselbar Full Review 
Kulturen.nu (DK) – "som de kvindestemmer dog kan løfte melodierne helt op under loftet i et magisk svæv."
Salt Peanuts (NO) – "en strålende plate" Full review
Resonator (DK) – "velspillet, velkomponeret "
Americana Highways (USA) – "you want to stay tuned for whatever Tone of Voice Orchestra does next."
Rootszone.dk – "fremragende og høreværdigt"
Sted

Baltoppen

Baltorpvej 20